National Athletic Trainers Month Spotlight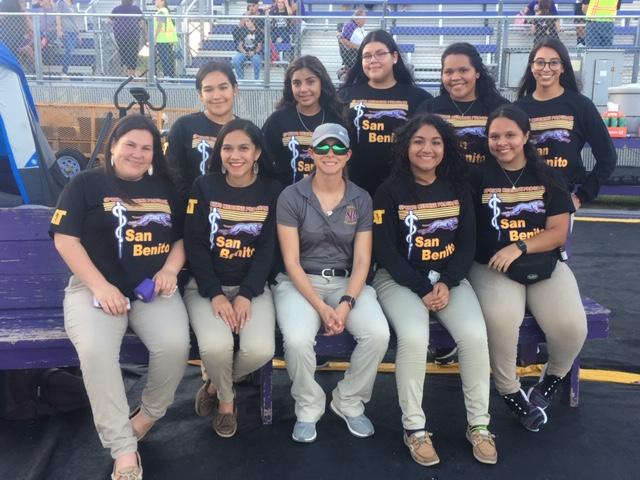 Laura Garcia
Hometown: Harlingen, TX
High School: Harlingen High School 2007
Undergrad: Texas State University 2011
Grad: Master's West Texas A&M University 2013

Current City and School/Workplace
San Benito High School

How many years in the profession
8 years in the profession

How/when did you become interested in the field of Athletic Training?
I tore my ACL my senior year in High School. Gained some insight into what an Athletic Trainer does with that injury. I saw what an athletic trainer does and how involved they were in athletics. I ultimately decided this combines healthcare and sports, I couldn't pass that up.

If from out of the valley, how did you end up at the position you are currently in?
I did live in Amarillo for a total of 5 years, and moved back to the Valley to be closer to family.

What drives you to do your job?
The rehabilitation aspect of Athletic Training provides a great opportunity to build a rapport with young individuals. I hope that through this I can also mold a young mind to be a better, hardworking individual that can go out into the real world and know they can conquer any obstacle.

Has Athletic Training provided you an opportunity to travel, either in or out of country? What is your favorite memory from this experience?
Athletic training for West Texas A&M women's basketball team has provided many opportunities for travel, the most memorable being Puerto Rico. The best memory from that trip was playing in a un air-conditioned gym and watching the opponents unencumbered by this element, while I had to watch my team for any signs of heat illness. It was definitely a great experience.

Do you have any advice for other ATs or students contemplating a career in Athletic Training?
Follow your gut. This profession is full of boundless opportunities you just have to follow your gut and take those opportunities to become the professional you want to be.