National Athletic Trainers Month Spotlight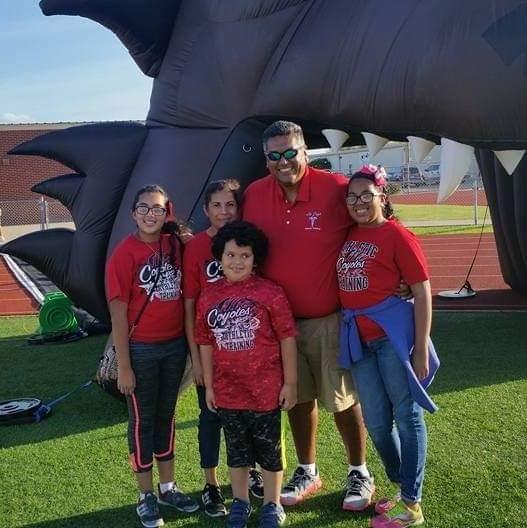 Luis A. Salgado MS, LAT/ATC
Born and Raised: El Paso, Texas
High School: JM Hanks High School (1991)
Undergrad: New Mexico State University (1998)
Graduate School: California University of Pennsylvania (2000)-Masters in Athletic Training
Current Hometown: Edinburg, Texas
Current School: La Joya High School
Currently the Lead Athletic Trainer for US Youth Soccer South Region Boys ODP (13 years)
Been an Athletic Trainer for 20 years
How/when did you become interested in the field of Athletic Training?
Although I was never a student Athletic Trainer in high school, I played basketball and injured myself various times and during my rehab stints I found the Sports Medicine profession very interesting and something I would like to pursue. When I transferred to New Mexico State University from The University of Texas-El Paso I was able to reunite with my high school Athletic Trainer (Angela Mickle), who became the Assistant Athletic Training Program Director, and told her about my interest in Athletic Training profession and she got me into the New Mexico State Athletic Training program and the rest is history.
If from out of the valley, how did you end up at the position you are currently in?
Once I graduated from California University of Pennsylvania, a colleague of mine from graduate school told me about several high school job openings here in the Rio Grande Valley. I applied and interview with several school districts and was fortunate to get a job with PSJA North High School. The "Valley" remind me a lot like my hometown of El Paso and I feel in love with the people, culture, weather and area. I've been blessed and lucky to have worked at other school districts as well (La Feria, Valley View, Edinburg, Donna, and currently at La Joya).
What drives you to do your job?
My family is my most important drive, but being able to work with athletes and past, current and future student Athletic Trainers knowing that I can make a difference in their lives is a role I take seriously.
Has Athletic Training provided you an opportunity to travel, either in or out of country? What is your favorite memory from this experience?
Athletic Training, specifically ODP, has provided me the opportunity to travel abroad domestically (Arizona, Florida, California and Alabama) and internationally (Mexico, Brazil, Argentina, Spain and Italy). I was also able to travel to China, Olympic Training Center-Beijing, to learn about Eastern Sports Medicine and their techniques. Although I have a lot fond memories of all of these locations, my three favorite memories are being able to watch soccer games at Camp Nou in Barcelona, Spain and getting to watch FC Barcelona (especially Lionel Messi), Maracanã Stadium in Rio de Janeiro, Brazil and Club Atletico Boca Juniors in Buenos Aires, Argentina (seeing Diego Maradona live at the game).
Do you have any advice for other ATs or students contemplating a career in Athletic Training?
First and foremost, have fun! The athletic training profession offers endless career opportunities in the health care profession so don't be in such a hurry to get where you want to be enjoy the journey(s) and all it offers. Lastly, don't forget to be patient, because good things happen to people who are hard-working, honest and loyal.