National Athletic Trainers Month Spotlight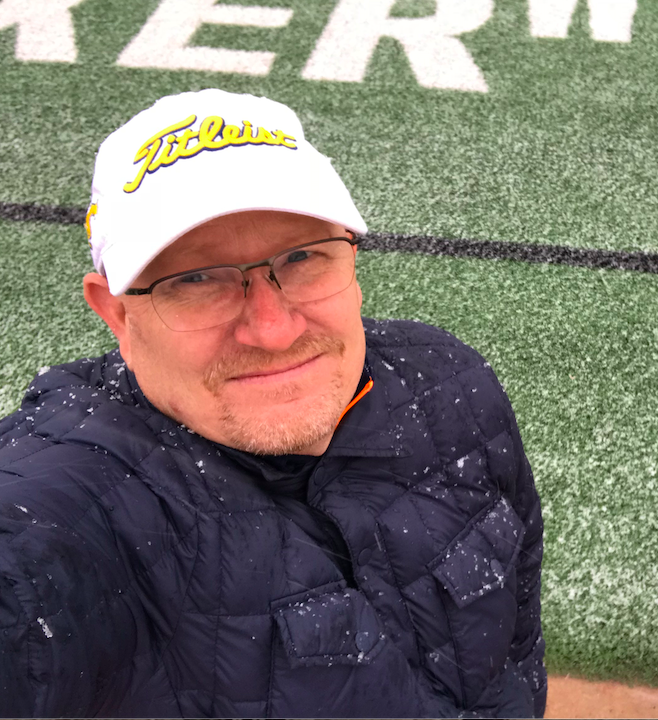 Kurt Fluegel, LAT
Born and raised in Amarillo Texas
Graduated from Tascosa High School in 1986.
Southwest Texas State University Bachelor of Exercise Sports Science(BESS) August1991. Texas Licensure September 1991-current (L.A.T.)
Cooper Institute 1992-1997 (CP-CPT)
Reside in McAllen, Texas
Work at McAllen Memorial High School 1993- present (26 years)
SPATS committee AHA instructor
28 years in the profession

How/when did you become interested in the field of Athletic Training?
I have always loved watching and playing sports as a kid, so I knew I wanted to be around them. Never caught the coaching bug, and spending a lot of time in the athletic training room in high school, it just seemed to fit. More of a calling than a career choice.
If from out of the valley, how did you end up at the position you are currently in?
In the early 90's a large group of AT grads from SWT (about 10-12) all began careers in the RGV. Coming out of college the RGV was where the money was. I actually started in sports medicine clinic for 30k, great money at the time but quickly found out that setting wasn't for me. But moving here was great, having that many friends made it easy. We all took care of each other, many of us roomed together. A few of us still live in the RGV, but I think I'm the last man standing as an AT in the Valley from that group.
What drives you to do your job?
People. The coaches staff, or the athletes we deal with daily. You build relationships with them and that makes it easy and fun to come to work.
Has Athletic Training provided you an opportunity to travel, either in or out of country? What is your favorite memory from this experience?
Yes, while I was s student at SWT, the now defunct World League American Football(WLAF) San Antonio Riders used San Marcos as a camp. And when teams like from Frankfort Germany and Barcelona Spain they would "camp" in San Marcos also. I was lucky enough to go on the trip with San Antonio to Barcelona. Actually was asked to help with the Frankfort Galaxy. By the time all the details were ironed out, the season was almost over so it never happened. And when the second season resumed, I was already employed here in the RGV.
Do you have any advice for other ATs or students contemplating a career in Athletic Training?
The three C's. Communication, compassion, and confidence. Have confidence in your daily decisions, evaluations and in yourself, and stand your ground when necessary. If you begin to doubt yourself people will see it and may doubt you as well. Being compassionate to your athletes injuries, everyone has a different pain tolerance. (took many years to learn this and still learning). And probably the most important communication. Keeping lines of communication open with athletes, coaches, staff and administration will make your job that much easier. That and wear sunscreen.